Macro photography tuition
with Heather Angel FRPS, FBIPP
Heather is a professional photographer, author, lecturer and a Visiting Professor at Nottingham University

She has been taking natural world macro shots for over four decades. Her forté is devising the best way to light each macro subject.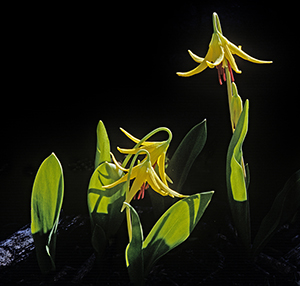 Glacier lilies backlit early morning in Yellowstone

'Thanks for a great day – I really enjoyed it and came to realise just how much can be done with very little equipment'.                                                                                                                                                   Jerry P.

"I wanted to thank you so much for yesterday's wonderful session; it passed all my expectations and I so enjoyed the day!  The aspect of your teaching that really resonated with me was your ability to listen to what I wanted to do on the day and then tailor your program to meet my specific needs; thank you!"  PB

Heather has been taking macro shots of the natural world for over four decades. Her forté is devising the best way to light each macro subject.

The key features we cover during the day are listed below, but this is not cast in stone. Let us know if you would like the programme fine-tuned to meet your own particular interests and experience. For example, we can discuss histograms, how to edit images and also cover focus stacking if this is of interest.
Who will benefit from this macro photography tuition?
Anyone who enjoys working with macro subjects and wants to discover new ways for photographing them will enjoy this tuition day.  The emphasis will be on lighting – much of it involving inexpensive ways for getting the best possible shot.

Hoverflies pick up lily pollen on their legs as they feed
Key Features
Laptop presentation of lighting techniques
How to meter difficult subjects
Outdoor lighting – reflectors / diffusers / fill-flash
Creative use of depth of field
Check out backgrounds
Careful composition
Work with window light
Work with LED lights
How to shoot focus stacks
The key features listed above are not cast in stone. Do let us know if you would like the programme fine-tuned to meet your particular interests and experience.
Location – Farnham, Surrey
We can collect from Farnham railway station.
Dates
Tuition can be in the week or at weekends to suit our clients.  Please offer several dates when book via CONTACT tab – see below.
Outline
When the weather is unsuitable for working outside, window light is ideal for some subjects; alternatively, LED lights, flash or a lightbox can be used during the day or even at night. Various lighting set-ups will be available to take a range of macro subjects.
Lunch
Lunch will be provided, please advise if you have any special dietary requirements.

Focus stack of Cobaea scandens flower
What to bring
Camera
Macro lens
A longer lens – a telephoto zoom would be fine
Tripod
Reflectors and diffusers – if you have them. If not, they will be available for you to use.
Flash – preferably not one that pops up on the camera. Don't buy one for the day. Nikon users can borrow a flash if necessary.
Macro focusing rail (only if you have one).

COST
One to One Macro tution
£300 +VAT per day
£200 +VAT per half day

Two to One Macro tuition
£160 + VAT per person per day
(TOTAL £320 +VAT for the day)

If you want to bring a few of your plant images – as prints or digital files – Heather will be happy to appraise them.
How to book
How to book via CONTACT tab

Email Heather's office stating which One to One topic is of interest (Macro or Plants – this will include some macro), your preferred date or any other days of the week which would be preferable.